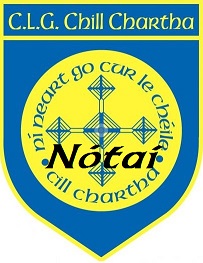 AGM
Our AGM has been rescheduled for Friday the 9th December @ 8pm in the Áislann Chill Chartha, could as many club members as possible can attend as our AGM is one of the most important events of the club calendar.
Ladies AGM
On behalf of our Ladies Board we would like to thank those who have submitted nominations for the positions to be filled for our 2023 Ladies Board Committee. Following the AGM that was held previously on Friday, 18th of November 2022 in the Áislann Chill Chartha, we have now officially filled and confirmed/ratified the positions for our 2023 season.
Positions as follows below:
Chairperson: Fiona McGinley Vice Chair: Noelle Campbell Secretary: Marion Doherty PRO: Leah McDowell Registrar: Fiona McGinley County Board Delegates: Declan Callaghan, Amanda Byrne, Leah McDowell Senior Ladies Manager(s): Neillie Byrne, Noel Hegarty Minor Manager(s): Fiona McGinley, Ciara Doherty U16 Manger(s): Paddy O'Donnell, Ciara Doherty, Ciara Diver U14 Manager(s): Ciara Diver, Sheila Diver U12 Manager(s): Eva Gallagher, Lilly McDevitt.
We would like to wish both our Ladies Board Committee & everyone involved within the Team Managements the best of luck for the upcoming season.
Under 21s
Our Under 21 match at the weekend was postponed no details as yet for their next fixture.
Ten Week Development Draw - Week Six Winners
€1,000 Thomas Byrne, Malinmore
€500 Tina Kennedy, Meenaneary
€300 Lorraine Lawlor, Rathfarnmham, Dublin
€200 Concepta Doogan, Strabrinna
€200 Kieran O'Gara, Garraross, Glencolmcille
€200 O'Donnell Grandchildren, Cashlings.
Paid up ticket winners of €500 each Joey Cunningham, Drimnafinagle agus Paul Rafferty, Drimreagh.
Club Lotto - Béidh €10,000 i bPóta Óir na seachtaine seo chugainn
Is iad uimhreacha Lotto ná seachtaine seo nó: 1, 13, 22 agus 28.
Buaiteoirí eile:
€50 Mary Doogan, Bavin
€30 Aonghus McFadden, Australia
€20 Margaret Byrne, Straleel agus Jonathan Cassidy, Enniskillen.
Winners can contact the club at treasurer.kilcar.donegal@gaa.ie with their IBAN and BIC details so payments can be sent straight to your bank account.  Entries can also be purchased at our stand in Centra, locally or online before 6pm each Sunday at this link https://tinyurl.com/y6tx8f64
Bingo
Club Bingo is on again in the Parish Hall at 8pm on Sunday, the jackpot is still €10,000.
Some of last Sunday's winners were: €150 Bella Cunningham €140 Frank Hegarty €120 Brid McCallig €100 Michael Doherty €70 John Conwell, Joan McGuinness, Eileen Gallagher, Máiréad Byrne, Mary O'Byrne, Elsie McMorrow €60 Máire Gillespie €50 Bernie O'Gara €35 Máire McShane agus Teresa Dolan.
Club Merchandise
You can buy club merchandise online at our O'Neill's Club Shop and you can buy the beautiful St Bridget's framed picture via our website for more information visit: http://clgchillchartha.com/club-shop
Follow us on Social Media
For the latest news visit our website www.clgchillchartha.com you can also follow us on Facebook and Twitter at facebook.com/CillCharthaGAA and @KilcarGAA you can also follow us on Instagram at kilcargaa and Snapchat at clgchillchartha.