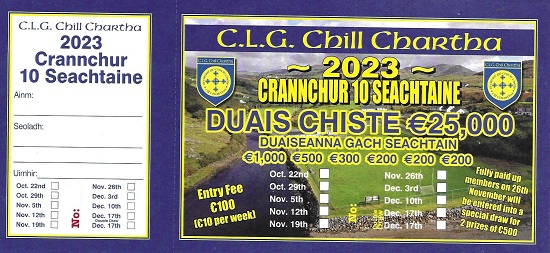 Tá sé in am d'ár Chrannchur Bliantúil 10 Seachtaine arís! Míle buíochas as bhur tacaíocht go dtí seo. Beidh na tarraingtí ar siúl gach Luan idir an 23ú lá de mhí Dheireadh Fómhair agus an 17ú lá de mhí na Nollaig, le €25,000 sa duaischiste!
Faigh ticéad ar líne anseo nó téigh i dteagmháil le Nicola Ní Dhubhgáin ar 087 4150188.
Go raibh míle maith agaibh agus ádh mór! 
Our annual Ten Week Draw starts on Monday 23rd October and ends with a double draw on December 17th, fully paid up members on November 26th will be entered into a draw for two prizes of €500
Online card payment options are bellow if you would like to pay in full or pay in installments or contact Nicola Doogan at 087 4150188 to buy one directly. 
Thank you for your continued support.
€25,000 in prizes to be won, the weekly prizes are: 
1st prize €1,000, 2nd €500, 3rd €300, 4th, 5th & 6th €200 
Two prizes of €500 for Paid up Members on Week 6
If you are having issues with the PayPal button as we know some people are you can pay via your PayPal account to kilcargaa@gmail.com
2023 Ten Week Draw Winners
Week Six
€1,000 Thomas & Margaret McColl, Croaghbeg, Kilcar
€500 Concepta Doogan, Strabrinna, Kilcar
€300 Conor Meehan, Muckross, Kilcar
€200 David O'Donnell, Bavin/Dublin
€200 Charlie McCabe, Meenacahan, Inver
€200 Joseph Haughey, c/o Haughey Coaches Teelin
Extra draw for paid up winners
€500 Fergal O'Gara, Muckross
€500 Seamus & Margaret Carr, Line Road, Carrick
Week Five
€1,000 Aisling, Aoise & Chloe McShane, c/o Conor McShane
€500 Keith Cunningham, Bavin / Ballybofey
€300 Claire Campbell, Castlecarn
€200 Adrian Byrne, Clogher, Carrick
€200 Sean & Alan Doherty, Bogagh
€200 Mary McHugh, Towney
Week Four
€1,000 Noreen Boyle & Barry Callaghan, Cullion, Kilcar
€500 Shaun O'Donnell, Galway
€300 Anna Ní Chasaide, Teileann
€200 Abhi Patel, c/o Tasty Bites, Kilcar
€200 Seamus McBrearty, Curris, Kilcar
€200 Nuala Byrne, Bavin, Kilcar
Week Three
€1,000 Paddy & Geraldine Sweeney, Bavin, Kilcar
€500 Declan Cunningham, Kille, Kilcar
€300 Declan Leonard, Santry, Dublin
€200 Catherine & Lisa Johnston, Killybegs
€200 Ann McHugh, Glengesh, Ardara
€200 Bridie McBrearty, Killybegs
Week Two
€1,000 Concepta Doogan, Strabrinna
€500 Kevin Donaghy, Bavin
€300 Pauric Meehan, Killybegs
€200 Tommy Breslin, Perth
€200 Emma Ní Dhónaill, Castlecarn
€200 Sarah Gallagher, Cashlings
Week One
€1,000 Molly Mae McShane, Ballydevitt, Donegal
€500 John Byrne c/o Áislann Chill Chartha
€300 Kyle Conroy, Rolagh
€200 Rory & Pat Byrne, Meenaneary
€200 William McGinley, Meenacarvey
€200 Barry Gallagher, Bruckless
2022 Winners
Week Ten
€1,000 Gerard Lyons, Glencolmcille
€500 Nora Byrne, Cuskerry
€300 Christy Moore, Kilbeg
€200 Con Moylan, Bruckless
€200 Mary A Byrne, Straleel
€200 Brid Doherty, Stranakirka
Week Nine
€1,000 Marty McGing, Killybegs
€500 Gerry Ward, Crove
€300 Micky Hegarty, Kilcar
€200 Tony Boner, Roxbrough
€200 Kenneth & Denise Byrne, Derrylaughan
€200 Martine Doherty, Rolagh
Week Eight
€1,000 John Cunningham, Glen
€500 Joseph O'Donnell, Largy, Killybegs
€300 Carmel Byrne, Teelin Road, Carrick
€200 Margaret Carr & Ann D McGill, Carrick
€200 Seamus & Ann Carr, Upper Main Street
€200 Mark Ward, Inver.
Week Seven
€1,000 Ann Heekin, Meenadiff, Glencolmcille
€500 Amy, Liam & Adam McLaughlin, Cashlings
€300 Conal & Marie Cunningham, Cuskerry
€200 Rory O'Gara, Towney
€200 Yvonne O'Gara, Meenacross, Glencolmcille
€200 Lily & Rory Gallagher, Churchtown.
Week Six
€1,000 Thomas Byrne, Malinmore
€500 Tina Kennedy, Meenaneary
€300 Lorraine Lawlor, Rathfarnmham, Dublin
€200 Concepta Doogan, Strabrinna
€200 Kieran O'Gara, Garraross, Glencolmcille
€200 O'Donnell Grandchildren, Cashlings.
Fully paid up Member's Draw
€500 Joey Cunningham, Drimnafinagle
€500 Paul Rafferty, Drimreagh.
Week Five
€1,000 John McGinley, Sieve, Glencolmcille
€500 Margaret & Martin O'Donnell, Largy
€300 Christy Byrne, John Joe's Pub Kilcar
€200 John Byrne, Ranakilla, Teelin
€200 Ross Carr, Dunkineely
€200 Joe Brennan, St Nauls
Week Four
€1,000 Denise Doogan, Gortahork
€500 Jason Cunnea, Cashel, Glencolmcille
€300 Ann & John Byrne, Gannew, Glencolmcille
€200 Anne Doherty, Bogagh Road, Carrick
€200 Letitia Doherty, Gortalia
€200 Colm & Mary Dunleavy, Drimarone
Week Three
€1,000 Anna Ní Chasaide, Teelin
€500 Marian McDowell, Bavin
€300 Declan Meehan, Donegal Town
€200 Noah, Layla, Reuben & Paige Carr, Co. Monaghan
€200 Pauric O'Donnell, Crove
€200 Hughie Cunningham, Belfast
Week Two 
€1,000 John Paul Cassidy, Derrylaghan
€500 Mary Brennan, Dunkineely
€300 Rory O'Donnell, Meenaneary
€200 Tina Kennedy, Meenaneary
€200 Michael Byrne, Malinmore
€200 Declan Carr, Brooklyn, New York
Week One
€1,000 Mary Gallagher, Meengilcarry, Killybegs
€500 Philomena McBrearty, Bridge Street, Killybegs
€300 Aggie McCloskey, Curris
€200 Dylan, Eden, Calvin Molloy, Glenties
€200 Joan & Fionnuala McGuinness, Largy 
€200 Jimmy, Ciara Byrne & family, Straleel