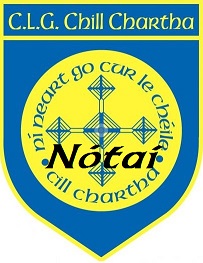 Ladies
Best of luck to our ladies who travel to Letterkenny Gaels on Sunday morning where they play the hosts in the Junior B championship semi-finals, meanwhile our minor girls were defeated in Buncrana in the division two quarter final.
Underage
Our Under 13s lost to Cloughneely in the division four cup, next up this Friday they travel to Four Masters throw in is at 6:30pm.
Family Fun Day
Thanks to all who helped out at the Family Fun Day in Towney last Sunday where a very enjoyable afternoon was had by all.
2023 Ten Week Draw
Tickets for this year's annual Ten Week Draw are now out, contact John Curran or Nicola Doogan for information. Online sales will be available shortly and more information to follow.
Tá na ticéid don Crannchur Bliantúil 10 seachtaine amach anois. Déan teagmháil le John Curran nó Nicola Doogan le haghaidh tuilleadh eolas. Beidh tú ábalta iad a cheannach ar líne go luath.
Irish Classes / Ranganna Gaeilge
Beidh rang Gaeilge ag tosú san Aislann i gCill Chartha ag a 7pm an Luan seo chugainn (an 25ú). Beidh an rang seo bunaithe ar comhrá/labhairt. There will be an Irish classes starting in the Áislann Chill Chartha at 7 pm next Monday the 25th. This class will be based on conversation.
Scór Sinsir 2023 - Important
An bhfuil tú sásta ionadaíocht a dhéanamh ar son CLG Chill Chartha sa chomórtas Scór Sinsir 2023? Are you happy to represent CLG Chill Chartha in the 2023 senior Scór? Má tá a fhios agat faoi aon duine atá ag iarraidh páirt a glacadh sa chomórtas, tá na catagóirí thíos.
If you know someone who would like to participate, the categories are below. Déan teagmháil le hAimée Ní Bheirn, tOifigeach na Gaeilge don chlub nó Secretary.kilcar.donegal@gaa.ie. Contact Aimée Byrne, our Irish Officer for more information.
There are eight events/disciplines in Scór that cover all aspects of Irish culture: Figure/Céilí Dancing, Solo Singing, Ballad Group, Recitation/Scéalaíocht, Nuachleas/Novelty Act, Instrumental Music, Set Dancing and Table Quiz. Please get in touch as soon as possible.
CLG Chill Chartha 1924-2024 Centenary can you help?
As you are probably aware we celebrate our centenary next year, so we are gathering archive items of interest. If you or someone you know has any old club photographs, newspaper articles, documents, old video footage etc relating to the club, we would love to get them copied. We will scan and return any item that's given back intact. If you can help, you can message us here, email kilcargaa@gmail.com or contact a club executive member.
Cranchur an chlub "Lotto" - Beidh €10,000 i bpota Óir an tseachtain seo chugainn.
Is iad na huimhreacha 'Lotto' an tseachtain seo ná: 2, 3, 17 agus 23.
Buaiteoirí eile: €50 Loretta McDowell, Keenaghan
€30 Lucy, Joey & Ellie Byrne, Derrylaghan
€20 Aishling Byrne, Carrick agus Christine Deane, Balllymacfadden.
A bhuaiteoirí, téigh i dteagmháil leis an chlub ag treasurer.kilcar.donegal@gaa.ie, le bhur nUimhir Idirnáisiúnta Cuntais Bhainc chun do chuid airgid a fháil. Winners can contact the club at treasurer.kilcar.donegal@gaa.ie with their IBAN and BIC details so payments can be sent straight to your bank account. Bí páirteach sa chrannchur an chlub, is féidir leat bhur n-uimhreacha a cheannach ag ár seastán i Centra, Cill Chartha nó tá tú ábalta iad a cheannach ar líne roimh 6pm gach Dé Domhnaigh ag an nasc seo: https://tinyurl.com/y6tx8f64. Entries can be purchased at our stand in Centra, locally or online before 6pm each Sunday at this link https://tinyurl.com/y6tx8f64 
Drive in Bingo @ 6pm Sunday – Jackpot €2,700
Club Drive in Bingo this Sunday evening at Towney GAA Grounds at 6pm (gates open at 5pm) with €1,400 to be won and the Jackpot is €2,700 all welcome.
Club Merchandise
New senior, reserve and ladies' jerseys are now available to purchase online at our O'Neill's Club Shop click https://shorturl.at/kEIR4 to visit, you can buy the beautiful St Bridget's framed picture via our website for more information visit: http://clgchillchartha.com/club-shop
Follow us on Social Media
For the latest news visit our website www.clgchillchartha.com you can also follow us on Facebook and Twitter at facebook.com/CillCharthaGAA and @KilcarGAA you can also follow us on Instagram at kilcargaa on Snapchat at clgchillchartha and on TikToc at @clgchillchartha.