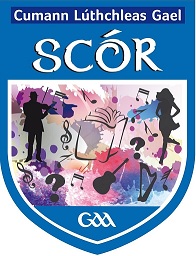 Scór Sinsir 2023 - Important
An bhfuil tú sásta ionadaíocht a dhéanamh ar son CLG Chill Chartha sa chomórtas Scór Sinsir 2023? Are you happy to represent CLG Chill Chartha in the 2023 senior Scór?
Má tá a fhios agat faoi aon duine atá ag iarraidh páirt a glacadh sa chomórtas, tá na catagóirí thíos. If you know someone who would like to participate, the categories are below.
Déan teagmháil le hAimée Ní Bheirn, tOifigeach na Gaeilge don chlub nó
Secretary.kilcar.donegal@gaa.ie
. Contact Aimée Byrne, our Irish Officer for more information.
There are eight events/disciplines in Scór that cover all aspects of Irish culture: Figure/Céilí Dancing, Solo Singing, Ballad Group, Recitation/Scéalaíocht, Nuachleas/Novelty Act, Instrumental Music, Set Dancing and Table Quiz.
Please get in touch as soon as possible.