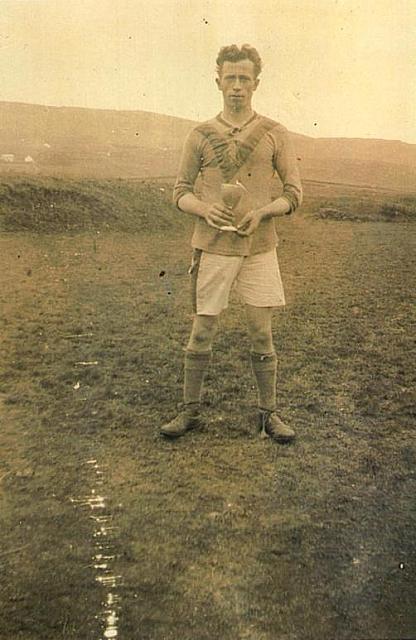 James Patrick McGinley was born in Umiskin, Kilcar in March 1909. The townland of Umiskin produced many fine footballers. James Patrick was one of six brothers who all played for the Kilcar club. The others were Johnny, Joseph, Eddie, Francis, and Leo. His younger brother Leo and his son Sean also played for county Dun na nGall
James played his first game for Kilcar in 1924 and continued playing until 1947. He had a long and illustrious career with the county team playing in many positions from 1933 to 1946. He played on the Dún na nGall county championship teams in 1934, '35, '36 and 1938.
An amazing feature and an indication of his fitness was that he did not have any injury during his long career. He also refereed many matches when he stopped playing. Many people would say that James Patrick was one of the finest all-round players they had ever seen.
It is worth recording that James Patrick may have initiated the solo run, at least in this part of the county, as he practised this skill as a boy and in his first game with Kilcar, when he went on a solo run the players from both sides stood and watched him scoring point after point when he got possession because this type of play had not been seen before.
His first county game was against Cavan in 1933 in the Ulster Junior Championship in Bundoran. He remembers Big Tom O'Reilly playing whom he believes played minor, junior and senior for Cavan that year.
Donegal eventually went to Croke Park to play in the All-Ireland junior final that year-1933. The trainer of the team was Willie Young of Cavan and while in training the team stayed in the Green House, Ardara. James Patrick always said that the team overtrained on the sand. Different individuals on the team trained on their own at 7 o'clock in the morning as well.
James P. believed that they would have won the final if their two good forwards, Fr.Hugh McNelis and Fr. Gerry Campbell, were allowed out of Maynooth College where they were studying for the priesthood.
The game, which was refereed by the famous Martin O'Neill, secretary to the Leinster Council, was played prior to the hurling final in which Mick Mackey won his first medal for Limerick.
John Browne of Carrick, and Jim Maxwell of Ardara, were his great friends and he said that they were also great players in their time. He named John O'Donnell (Dungloe), Tommy McHugh (Kilcar), Willie Boyle, Tom Gallagher and Vinny McHugh of Ardara, and Anthony McBrearty (Donegal), as other great players.
Players that he considered unfortunate not to get on the county team were Joseph McGuinness (Killybegs), and Bernard Byrne, of Doonin, Kilcar.
Of the great players that he admired outside the county were Big Tom O'Reilly, Christy Fisher (Monaghan), Paddy Prendergast (Mayo), Kevin Armstrong (Antrim), Victor Sherlock and Tony Tighe (Cavan), and Iggy Jones (Tyrone).
On present day football, James said that 7-a-side would be his preferred type of game. He said that the game was faster in the 1980's than in his time but that hand passing was  being overdone and that he would ban the solo except when "making up ground when free in front of goal". He also said that there has been a great improvement in the quality of pitches as in his time the only good pitches were Magheragallon, Letterkenny (at St. Conal's) and Bundoran.
James Patrick Mc Ginley passed to his eternal reward in July 2002. Ní bhéidh a leithid ann aris.
Mc Ginleys who played Senior Championship football for Dún na nGall
Jim Mc Ginley, Killybegs -1920
James Patrick Mc Ginley, Cill Chartha - 1934-36, 1938
J.A Mc Ginley, Ard a' Ratha - 1936-37
D. Mc Ginley - 1940
Mick Mc Ginley, Dunfanaghy - 1961
Noel Mc Ginley, Naomh Columba, Glencolmcille - 1998 – 2004
Peter Mc Ginley, Killybegs - 1997
Seán Mc Ginley, Cill Chartha - 1975
Source The Donegal Book of Facts by An tÁth Seán Ó Gallchóir 2007
·         Mick Mc Ginley, Dunfanaghy, see above, father of the famous golfer Paul, won an Ulster Minor Championship medal, playing with Dún na nGall, in 1956
·         Seán Mc Ginley, son of James Patrick Mc Ginley, was the treasurer of the Dún na nGall GAA County Board from 1995 to 1998.
·         Johnny Mc Ginley, was Chairman of the Dún na nGall GAA County Board  in 1954
·         Seán Mc Ginley, Glencolmcille, was Chairman of the Dún na nGall GAA Board in 1941,1942 and 1943