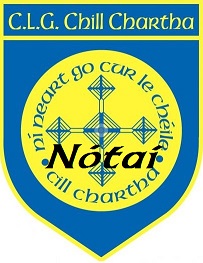 2023 Crannchur Deich Seachtaibe / 2023 Ten Week Draw
This year's Ten Week Draw will now start this Bank Holiday Monday evening with a double draw, if you want to enter you can buy online at https://shorturl.at/aqU27 or contact Nicola at 087-4150188 your support is very much appreciated.
Under 21s
Our under 21s will play in the B championship in this year's campaign and in the first match they host Glenfin this Saturday morning at 11am in Towney, best of luck to the players and management.
1998 Minor Champions Reunion
Our 1998 Minor Championship 25 year reunion will take place in Kilcar House on Saturday 28th of October at 7pm, they won the title following a dramatic 4-03 to 0-11 replay win against Four Masters in Fintra you can relive the moments on our YouTube channel here: https://www.youtube.com/watch?v=OXhDiFI-lug.
Club AGM
This year's AGM will be held on November 18th at 8pm in Áislann Chill Chartha.
CLG Chill Chartha 1924-2024 Centenary can you help?
As you are probably aware we celebrate our centenary next year, so we are gathering archive items of interest. If you or someone you know has any old club photographs, newspaper articles, documents, old video footage etc relating to the club, we would love to get them copied. We will scan and return any item that's given back intact. If you can help, you can message us here, email kilcargaa@gmail.com or contact a club executive member.
Cranchur an chlub "Lotto" - Beidh €10,000 i bpota Óir an tseachtain seo chugainn.
Is iad na huimhreacha 'Lotto' an tseachtain seo ná: 1, 8, 12 agus 22.
Buaiteoirí eile:
€50 Teresa Hegarty, Teelin
€30 Catriona Gallagher, Killybegs
€20 Annette Moore, Kilbeg agus Eilish Boyle, Castlebalney.
A bhuaiteoirí, téigh i dteagmháil leis an chlub ag treasurer.kilcar.donegal@gaa.ie, le bhur nUimhir Idirnáisiúnta Cuntais Bhainc chun do chuid airgid a fháil. Winners can contact the club at treasurer.kilcar.donegal@gaa.ie with their IBAN and BIC details so payments can be sent straight to your bank account. Bí páirteach sa chrannchur an chlub, is féidir leat bhur n-uimhreacha a cheannach ag ár seastán i Centra, Cill Chartha nó tá tú ábalta iad a cheannach ar líne roimh 6pm gach Dé Domhnaigh ag an nasc seo: https://tinyurl.com/y6tx8f64. Entries can be purchased at our stand in Centra, locally or online before 6pm each Sunday at this link https://tinyurl.com/y6tx8f64 
If you recently won on the lotto and did not pass on your bank details you can pick up your winnings in Centra.
Biongó tiomáin isteach / Drive-in Bingo @ 4pm
Beidh biongó tiomáin isteach ag tarlú oíche Domhnaigh i dTamhnaigh ag 5in, pota óir €3,200, fáilte roimh achan duine.
Club Drive in Bingo this Sunday evening at Towney GAA Grounds at 4pm (gates open at 3pm) with €1,400 to be won and the Jackpot is €3,200 all welcome.
Earraí Club / Club Merchandise
New senior, reserve and ladies' jerseys are now available to purchase online at our O'Neill's Club Shop click https://shorturl.at/kEIR4 to visit, you can buy the beautiful St Bridget's framed picture via our website for more information visit: http://clgchillchartha.com/club-shop
Na meáin shóisialta / Follow us on Social Media
For the latest news visit our website www.clgchillchartha.com you can also follow us on Facebook and Twitter at facebook.com/CillCharthaGAA and @KilcarGAA you can also follow us on Instagram at kilcargaa on Snapchat at clgchillchartha and on TikToc at @clgchillchartha.