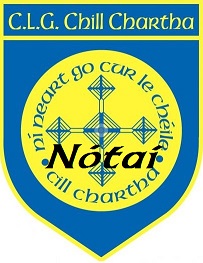 Under 21s
Our Under 21s host Killybegs in their opening match of the championship this Sunday at 12 noon
AGM
Our AGM will be held on Friday the 25th November @ 8pm in the Áislann Chill Chartha. Anyone looking for nomination papers or for information on the agenda for the AGM can contact our secretary via email at Secretary.kilcar.donegal@gaa.ie
Ten Week Development Draw
Week One Winners
€1,000 Mary Gallagher, Meengilcarry, Killybegs, €500 Philomena McBrearty, Bridge Street, Killybegs, €300 Aggie McCloskey, Curris, €200 Dylan, Eden, Calvin Molloy, Glenties, €200 Joan & Fionnuala McGuinness, Largy agus €200 Jimmy, Ciara Byrne & family, Straleel.
Week Two Winners
€1,000 John Paul Cassidy, Derrylaghan, €500 Mary Brennan, Dunkineely, €300 Rory O'Donnell, Meenaneary, €200 Tina Kennedy, Meenaneary, €200 Michael Byrne, Malinmore agus €200 Declan Carr, Brooklyn, New York. Thanks to all who entered and you can still enter our remaining eight draws at this link: https://tinyurl.com/tenweekdraw
Coffee Morning for the Creeslough Disaster Fund
Thanks to all who supported the Coffee morning last Sunday it was a great success.
Club Meeting
Our monthly club meeting takes place this Wednesday at 8pm in Towney, all welcome.
Underage
Best wishes to our Under 13s in the division five county final against Robert Emmets this Sunday not venue yet announced.
Ladies AGM
On behalf of the Ladies Board, we would like to thank all our 2022 committee team and our Ladies management for all their continued support, time and commitment for last season, overall it was a great season for all teams. This year we are holding our AGM earlier than normal. We will hold our AGM on the 18th of November in Áislann Chill Chartha at 8pm.
Nominations will be taken for the following positions:
- Chairperson
- Secretary
- PRO
- County Board Delegates
- Senior Ladies Manager
- Minor Manager
- U16 Manager
- U14s Manager
- U12s Development
Nominations must be to sent to our Ladies Board Secretary no later than by 8pm Friday the 11th November. Please send them through by the following email: cillchartha.donegal@lgfa.ie  
Again, we would like to thank you all for your continued support. We hope to see as many people attend our AGM this year for our 2023 season. Please note that all new and current members are welcome.
Club Lotto - Béidh €10,000 i bPóta Óir na seachtaine seo chugainn
Is iad uimhreacha Lotto ná seachtaine seo nó: 1, 16, 23 agus 29.
Buaiteoirí eile:
€50 Anne Breslin, Shalvey
€30 Sheila Hegarty, Largymore
€20 Sarah Molloy, Churchtown agus Raymond Carr, Glasgow.
Winners can contact the club at treasurer.kilcar.donegal@gaa.ie with their IBAN and BIC details so payments can be sent straight to your bank account.  Entries can also be purchased at our stand in Centra, locally or online before 6pm each Sunday at this link https://tinyurl.com/y6tx8f64
Bingo
Club Bingo is on again in the Parish Hall at 8pm on Sunday, the jackpot is still €10,000.
Some of last week's winners were: €150 Roseleen Boyle €110 Catherine Moss €100 Siobhan McBrearty, Joan Ellis €85 Margaret McGinley €80 Fionnuala Garrihy €70 Tracy McCade, Patricia O'Gara, Oliver Boyle, Trina McShane, Elsie McMorrow €50 Kathleen Keeney €40 Roseleen Keeney agus Brid Campbell.
Club Merchandise
You can buy club merchandise online at our O'Neill's Club Shop and you can buy the beautiful St Bridget's framed picture via our website for more information visit: http://clgchillchartha.com/club-shop
Follow us on Social Media
For the latest news visit our website www.clgchillchartha.com you can also follow us on Facebook and Twitter at facebook.com/CillCharthaGAA and @KilcarGAA you can also follow us on Instagram at kilcargaa and Snapchat at clgchillchartha.