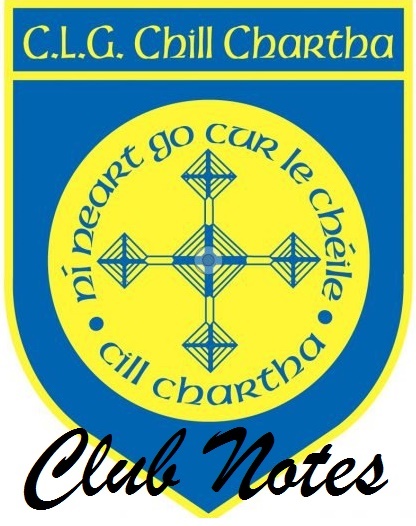 Bingo Jackpot €10,000
There was no winner of the Jackpot so it's now €10,000 on 45 numbers; Club Bingo is on in The Parish Hall on Sunday nights at 8:30pm thanks to all who continue to support our Bingo! This week's winners were: €155 Patricia Gallagher €150 Denise Boyle €80 Trina McShane €70 Carmel Lyons, Margaret Cunningham, Ellen O'Donnell, Nora Byrne and Collette McNelis.
Club Gear
New Stock now available in time for Christmas in Áislann Chill Chartha with adult and kid's club home jerseys, half zip tops, polo shirts, bobble hats, jackets, hoodies, stickers, shorts, DVDs etc
FREE Mobile CLG Chill Chartha Club App
We have 251 members on our FREE mobile app if you would like to sign up just follow these steps to download your free team App for CLG Chill Chartha. 1. On your phone or iPad go to the app store 2. Search for Team App 3. Install Team App to your phone 4. Search for CLG Chill Chartha 5. Log in and register for the CLG Chill Chartha Club app. 6. You will receive an email notification when you are added you to the system.
Lotto Results
There was no winner of the Club Lotto Jackpot so next week's Jackpot is €3,500 this week's numbers were 5, 11, 17 and 28 this week's winners were: €50 Annie Deane, Cruckarra €30 John Hegarty, No 8 Cruckarra €20 Pamela Bonner, Kilbeg and Qunlan Molloy, Laugheraherk.
For the latest news visit our website www.clgchillchartha.com you can also follow us on Facebook and Twitter at facebook.com/CillCharthaGAA and @KilcarGAA you can also follow us on Instagram at kilcargaa and Snapchat at clgchillchartha.